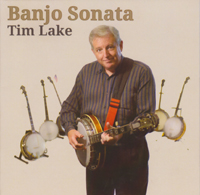 CD Album $15.00
(+ $5.00 Shipping)
Digital Album $15.00
Banjo Sonata
Release Date: 2015
This "Banjo Sonata" project explores two themes. First, a sonata is a classical music form that has three-movements and is often performed by a solo instrument. Movement I is in Sonata-Allegro form. Second, the word sonata means 'to sound,' so I decided to use the banjos that I have accumulated over the years and play (and sometimes sing) a tune reminiscent of the music from that banjo and its era. This album demonstrates the greater meaning of the term Banjo Sonata by showcasing a variety banjos and banjo sounds. There are many different types of music and banjo styles throughout this project encompassing original compositions, traditional tunes, classical pieces, and popular songs.
---
A Five String Banjo Sonata In G Major
1.
Movement I – Allegro con brio "The Question"
5:02
2.
Movement II – Adagio cantabile "Is It Really A Gift To Be Simple?"
3:59
3.
Movement III – Vivace motto con brio "Nuevo Rondo Banjo Marcho"
4:48
---
---
5.
J.S. Bach Minuet III In G Major, BWV 822
1:12
---
6.
When You're Smiling
1:42
---
---
8.
You Are My Sunshine
1:12
---
9.
Was It Something You Said?
3:03