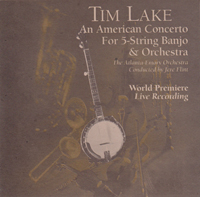 CD Album $15.00
(plus $5.00 Shipping)
Digital Album $15.00
Cassette Album $10.00
(plus $5.00 Shipping)
An American Concerto For 5-String Banjo And Orchestra
Release Date: 1993
As winner of Kentucky's prestigious Al Smith Fellowship for music composition and twice recognized by ASCAP's Standard Awards panel, this concerto, entitled An American Concerto For 5-String Banjo And Orchestra was composed by Tim Lake and released as a LIVE recording on Padraig Records. The premiere took place on April 27, 1993, by Tim Lake and the Atlanta-Emory Orchestra under the direction of Jere Flint at Glenn Memorial Auditorium in Atlanta Georgia.
The concerto is a three movement work of original themes with stylistic influences spanning the complete history of music. It is a semi-programmatic work which depicts an immigrant's voyage to America. This piece is undoubtedly the first of its kind and should be a must for any serious collector of music. Other original compositions offered in this package are unique solo piano works and an oboe/bassoon duet. The potential of the 5-string banjo is further explored with Tim's arrangement of Beethoven's classic Für Elise. (Click Play button to listen to a clip of each song on the CD.)
---
An American Concerto For 5-String Banjo & Orchestra
1.
Movement I
– Allegro-March-Andante-Moderato-Allegro-March
7:06
2.
Movement II
– Adagio, "Nothing Is Everything"/"America"
11:28
3.
Movement III
– Lento, "Lento For Winds And Banjo"-Presto Scherzando, "Connemara"-Andante, "The Banjo Waltz"-Vivace, Finale
8:33
---
---
---
---
7.
Extremities (Hendrix Plays The Classics)
1:02
---
8.
What To Do (Earthquake 1990)
1:02
---
9.
When I First Met Miyuki
5:38
---
10.
Beethoven On The Banjo: Für Elise
4:20
---
11.
Clouds For Alice
2:24