Review Excerpts
Banjo Sonata – Tim Lake is a virtuoso on the banjo and on the album Banjo Sonata he not only plays different banjos, but also goes on adventures in different musical regions – he starts with a self-composed classic-oriented piece in three parts, the "Five-String Banjo Sonata in G Major" which lasts over thirteen minutes. Lake regularly hangs spectacularly on the ropes and lets you hear things on the banjo that you have never heard anywhere else. This applies to his composition "Rokudan Breakdown" where you hardly recognize the banjo at first, but think it is a Japanese string instrument. This is one of the few songs on which you hear a guest player, namely shakuhachi player Kuniyoshi Sugawara. Pianist Jay Flippin plays on Lake's "Was It Something You Said?" but otherwise you only hear Tim Lake playing and singing. Most songs are his own compositions but he also knows how to bend a number of classics such as "When You're Smiling" (that dates from the thirties) and real Bluegrass traditions to make his own mark. "Old Joe Clark Con Accelerando Y Harmonie" gets unforgettable treatment on seven of the banjos from his collection, but "Black Eyed Susie" also becomes a real Tim Lake song played on a 1925 Weyman five-string banjo. The cover shows the banjos with extra information and each song states which banjo is being played that should please fanatical banjo aficionados. On this album you fall from one surprise to the next as Lake lets his imagination loose on his "A Leprechaun Meets Mahatma Gandhi" while just before you have the "Fiddling Fives Medley" all performed magnificently in a way you have never heard the banjo before."
— Holly Moors/ Moors Magazine (Holland: Dutch to English translation) /Feb. 2016
Banjo Sonata
– "If you like alternative styles of music on the banjo, this one's for you. Kentucky banjoist Lake's new CD leads off with an original, "A Five-String Banjo Sonata In G Major" and follows up with a Bach minuet, a traditional, "You Are My Sunshine" and Lake's "Rhapsody For Five_String Banjo In C Major." Other cuts include "Me And My Shadow" and another Lake original, "A Leprechaun Meets Mahatma Gandhi." Whoo-ee!"
— Mitch Finley, Bluegrass Blabber Jan./Feb. 2016
We All Need Heroes – "It's a big plus that Lake, besides being a clever, tuneful writer, knows how to dress up these songs in a broad variety of arrangements. We All Need Heroes successfully dips into a number of styles to create an album that's easy on the ears but never insults your intelligence."
— Ronald Lankford, Jr., Sing Out!, Fall 2005 Vol. 49 #3
We All Need Heroes – "Lake has assembled a collection of 17 original songs that delve into a variety of subject matter from politics and religion to social values, history, children, love and life conjuring up many moods and feelings and Lake's voice and stellar banjo work are comfortable in all of these settings. Highly recommended."
— Kevin Kerfoot, Bluegrass Music Profiles, September/October 2005
We All Need Heroes – "The latest album from Tim Lake, fuses bluegrass, gospel, country, rock, pop, and light jazz behind his singing voice on all-original material. With sultry, bluesy and soulful vocalizing, Lake is also somewhat of a political spokesman with songs like "If Only I was a Praying Man," "Praise the Lord and Shoot to Kill," "Two GIs in a Foreign Prison" and the title cut. He also presents some tender love sentiments, gospel, and other messages that are creative and unique ("Ain't Nobody Normal Anymore"). A typical arrangement has Lake's banjo and vocals layered with piano, pedal steel, percussion and other instruments. Lake addresses the spiritual issues that we all confront daily during turbulent times. Four of his songs were inspired by the 9/11 tragedy. He also successfully explores the role of the banjo in American popular music, with the 4-string plectrum banjo played in "It's You," while the 5-string is more frequently used. "They Will Always Love You" is a personal favorite due to its contemporary bluegrass feeling. With nearly 70 minutes of music on this album, you're bound to find some melodies and lyrics to personally relate to.
— Joe Ross, Joe Ross Reviews, November 2005
We All Need Heroes – "Tim Lake is a folksinger with a song to sing, a man on a mission on We All Need Heroes. He can be a broad social critic and satirist, as on the first cut, a straight singer/songwriter on "It's You," and a storyteller on the title cut. Lake also has a knack for adding politics to the mix without being overly obvious. We All Need Heroes is a well-wrought collection by a thoughtful performer, and will be warmly welcomed by good liberals and folk fans tired of the same old same old.
— Ronnie D. Lankford, Jr., All Music Guide, MSN
We All Need Heroes – "Sonically, he explores a varied palette of banjo styles from plectrum to swing to bluegrass to support these and other songs in the collection. These other songs, all originals, are a bit like the broadside ballads of an earlier time, themed around contemporary politics and spiritual questions and grounded in the images of daily life. Lake's work is straightforward, heartfelt, and consistent. He can really play the banjo, too."
— Kerry Dexter, Dirty Linen Magazine, June/July 2005 #118
We All Need Heroes – "Virtuoso 5-string banjoist Lake's latest is a remarkable collection of 17 instrumentals and songs. This CD is nigh onto indescribable, except to say that it's impossible not to enjoy it and want to leave it in the ol' CD player for days on end. A wonder!"
— Mitch Finley, The Inland Northwest Bluegrass Association, May/June 2005
We All Need Heroes – "Tim Lake has spent a career redefining the banjo's musical territory. On We All Need Heroes, Lake continues his imaginative songwriting. The album features a diverse collection of tunes ranging from the bluesy "Outside Looking In" to the sweet "When I Think Of You." The centerpiece of the disc is a four-song suite inspired by the events of September 11 (anchored by the sardonic "Praise The Lord and Shoot To Kill."). Lake dispenses all kinds of front-porch wisdom and is equally adept at humor and earnestness, but the obvious draw of his music is his incredible banjo playing. "Heroes" features a number of solos that give the listener a wonderful taste of the banjo's versatility."
— Kory Wilcoxson, Louisville Music News, May 2005
We All Need Heroes – John Shelton Ivany's Top 10 Recommended Albums (Mar.3-Mar. 10, 2005) – Tim Lake, We All Need Heroes, Padraig
Kentucky Home – Foust Concert Series brings Dr. Tim Lake to chapel "Dr. Tim Lake brought his Bluegrass music talents to Hill Chapel last Thursday evening in a concert that was part of the Foust Concert Series. In perhaps the most interesting two performances of the evening, Lake, Holbrook and Wilson combined Handel's Messiah with Dueling Banjos in one song and infused Vivaldi and Bluegrass with one another. Needless to say, all in attendance had a great time with the lively Bluegrass music, and it would be great to see Lake back next year."
— Patrick Purcell, The Georgetonian
Kentucky Home – "Tim Lake is probably best known for his inventive use of the banjo. He's played jazz, classical, and blues and extended the range of the instrument far beyond what others have done. What might have been overlooked is how well he plays straight old-time banjo, but this new two-CD set should help set the record straight. All the classics are here …. played with Lake's trademark skill and imagination. Lake's between-song chatter is funny and informative and adds to the relaxed nature of this recording. Lake has come up with yet another enjoyable album that, even at over 135 minutes of music, never wears out its welcome.
— Jim Lee, Dirty Linen, October/November 2001
Kentucky Home – "Tim Lake is one heck of a banjo player as is evidenced on his latest two-CD effort, which contains 33 tunes performed live with his trio. While many of the tunes may be traditional, Lake can hardly contain himself to one style of playing and is prone to a lightning quick chromatic flourish with tinges of blues and jazz at any given moment. His playing sounds fresh with interesting ideas. There is a lot of good music on Kentucky Home. Fans of 5-string banjo – traditional and otherwise – should definitely consider adding this one to their collection.
— Eddie Collins, Bluegrass Now, October 2001
Kentucky Home – "He's a folksinger, he's a songwriter, he weaves jazz and blues riffs in amongst his Scruggs licks, and even by banjo player standards, his musical imagination often creeps into dark corners and crevices that the rest of us can't fathom. —— Kentucky Home represents something of a return by Lake to his bluegrass roots —- While Lake's banjo style carries the rock-solid timing that's to be expected of a Crowe disciple, there's also a melodic side to his picking that few others can claim to be nearly as good at."
— John Lupton, Sing Out! Summer, 2001
Kentucky Home – "Tim Lake is one of those little-known musicians who deserve much more fame. His banjo style is something to envy even for the great banjoists of the past and above all he manages to put together an explosive mixture of styles that see blues and bluegrass in jazz as the right fuse. His previous "Jazz With Bluegrass & Blues" from 1995 is a record that ennobles the banjo beyond the stereotyped prairies and green hills with the variety of styles and rhythms that are found in each song. With his latest "Kentucky Home," Tim returns to his Kentucky traditions but without nostalgia or sentimentality. His approach is lively and virile and his arrangements of classics like "Arkansas Traveler" mixed with Irish reels and jigs together with a detailed version of "El Condor Pasa/Caravan" still manage to intrigue. The disc was recorded live during an intimate concert and conveys the direct and immediate atmosphere of a concert with friends. We must absolutely remember Ken Holbrook and James Moore who together with the leader make this album particularly interesting and worthy of a refined disc."
— Robert Menabo/Chitarrando/Bluestime.it Magazine (Italy: Italian to English translation), November 2001
Kentucky Home – "Given the combination of Lake's instrumental virtuosity, his broad stylistic range, and the informal live setting, this album has some great moments."
— Rick Anderson, Bluegrass Unlimited – June 2001
Live In Tokyo – "Lake's banjo playing puts him in a class by himself. He can play straight-up traditional, give the tradition his own twist or take the banjo to places it hasn't been before."
— Jim Lee, Dirty Linen, Oct./Nov. 2000
Live In Tokyo – "Tim Lake has been there along with Bela Fleck, Bill Keith, Tony Furtado and others redefining the way we listen to and the music we play on the banjo."
— Tom Druckenmiller, Sing Out!, Fall 1999-2008
Live In Tokyo – "What do Vivaldi, Ellington, Scruggs, Mercer, Handel, Monroe, Parker, and Taki have in common? They provide inspiration for one of the most unusual and perhaps, unique recordings I ever heard. Tim Lake seems determined to convince the world that there are no boundaries for his beloved banjo. The lyrics to I Can Play The Banjo and Only Eat When You're Hungry confirm his desire to make the world a better place using his music and banjo. If you like banjo music, this CD should be in your collection as it is probably unlike anything you have ever heard, {Bela Fleck not excluded.}"
— Bob Mitchell, Louisville Music News, July 1999-2008
Jazz With Bluegrass And Blues, An American Concerto For 5-String Banjo And Orchestra, & Only In The Movies – "Lake continues to challenge the preconceived notions and expectations people fall back on that limit their openness to new and different sounds. In Lake's musical world, there are no limits and no boundaries."
— John Lupton, Music Hound – Folk, The Essential Album Guide, 1998
Jazz With Bluegrass And Blues, An American Concerto For 5-String Banjo And Orchestra, & Only In The Movies – "From his early Rounder album through these three releases on his own Padraig label, Lake has continually demonstrated a remarkable breadth of imagination and inventiveness as an instrumentalist, singer, songwriter, composer, and humorist."
— John Lupton, Sing Out!, Winter 1998
Jazz With Bluegrass And Blues – "Reflects the mind of an artist who is at once a sensitive and compassionate social observer, as well as a joyful and talented musical spirit breaking new ground for a traditional instrument."
— Eric Souders, Crossroads, March/April 1997
Jazz With Bluegrass And Blues – "He has combined his experience in bluegrass music with classical, jazz, blues, ragtime and folk to create a style he can certainly call his own. He has both technique and fresh ideas. Tim Lake's recordings give us a glimpse into the mind of one of today's leading progressive proponents."
— Ian Perry, Banjo Newsletter, April 1997
An American Concerto For 5-String Banjo And Orchestra – "Meet Tim Lake; composer, performer and obvious banjo enthusiast of the highest order. The banjo as a harmonious and lilting symphonic instrument paints images with melody and rhythm. Tim's fine orchestrations are performed by the Atlanta-Emory Orchestra…something to truly challenge your listening ear."
— Don Dawson, Acoustic Musician, September 1997
An American Concerto For 5-String Banjo And Orchestra – "One of the most ambitious and most eclectic works ever written for banjo. The work is a banjoistic meltdown that draws from fiddle tunes, jazz, American and European folk, and blues even though the final result is definitely classical."
— Paul-Emile Comeau, Dirty Linen Magazine, February/March 1995
An American Concerto For 5-String Banjo And Orchestra – "Lake has been plucking all over the US, Japan, Ecuador, Norway, and Austria, all the while actively redefining the possibilities of one of the few truly American instruments. What came out of this experimentation would eventually become Lake's doctoral piece: An American Concerto for Five-string Banjo and Orchestra."
— Arkady Pritsker, International Musician, September 2005
An American Concerto For 5-String Banjo And Orchestra – "Lake has composed what might be the first concerto for five string banjo and symphony orchestra."
— Derrick Henry, The Atlanta Journal and Constitution, April 27, 1993
An American Concerto For 5-String Banjo And Orchestra – "Accomplished banjo player Tim Lake has charted new territory with his concerto."
— Donna Arnold & George Merritt, The Sonneck Society For American Music Bulletin-Summer 1994
An American Concerto For 5-String Banjo And Orchestra – "Impressive new work performed by the Atlanta-Emory Orchestra with Lake as soloist."
— Kevin Nance, Lexington Herald-Leader, May 8, 1994
An American Concerto for 5-String Banjo And Orchestra – Tim Lake "proves doubters wrong with work for banjo, orchestra."
— Walter Tunis, Lexington Herald-Leader, May 16, 1993
Only In The Movies – "Tim Lake could take his place among the great banjoists of any style. On Only In The Movies Lake interprets a couple of Bach tunes, jazz melodies, including Ray Noble's "Cherokee," a slide banjo blues tune, and medleys of standards."
— Paul-Emile Comeau, Dirty Linen, February/ March 1995
"Behold a new leading man of popular balladry: Tim Lake, reared in Kentucky and now likely to become a national phenomenon through the release of 'Same Old Roadside Inn' (Rounder). Instantly authoritative, Lake has a bold, resonant, flexible voice. He also wrote all the songs, and they range through lives as different as those of a destroyed guitar picker and a most content long- time lover."
— Nat Hentoff, Cosmopolitan Magazine, December 1979
"Jazz With Bluegrass And Blues is the perfect introduction to modern folk music to the uninitiated. Fans of Alison Krauss will love this album."
— Brian Privett, Kentucky Kernel, December 4, 1995
"Jazz With Bluegrass And Blues, and the 13 original tunes show off Lake's musicianship as well as his talent as a songwriter."
— Jeff Worley, Ace Magazine, October 1995
"Kentucky banjo virtuoso, Tim Lake, has ventured into the classical music arena with his original American Concerto for 5-String Banjo and Orchestra. Lake's previous experiments with Vivaldi, Bach, and Beethoven for banjo led Lake to the April 1993 debut with the Atlanta-Emory Orchestra."
— John McCutcheon, International Musician, February 1995
"The diversity of Lake's music and his musical abilities, which encompass not only being one of the more sharp-edged, new frontier-roaming banjo players alive, but also a supple, poignant songwriter and singer, have made Lake accessible to almost any audience."
— Dave Lavender, Kentucky Kernel, April 30, 1993
"Uncommon juxtapositions are Lake's specialty."
— Kristin Faurest, The Courier-Journal, Louisville, Kentucky, September 8, 1990
"The group's repertoire includes the complete spectrum of American traditional music: bluegrass, blues, gospel and jazz."
— Hoy, Quito, Ecuador, February 17, 1986
"One of the broadest new artists in recent memory, Tim Lake is a gifted songwriter with a good ear for the kind of production most enhancing and complementary to his songs. A talented instrumentalist, Tim Lake has chosen rather to showcase his immense songwriting gifts."
— Rounder Records, 1980
Same Old Roadside Inn – "Tim Lake – Roadside Inn – recommended pick."
— Billboard Magazine, week ending July 12, 1980
Sing Out! – Fall 2005 Vol. 49 No. 3

TIM LAKE – We All Need Heroes, Padraig 35445
After hearing the hallelujah chorus on "Are You Ready?," it's perhaps excusable if you mistake Tim Lake 's new album for a Gospel recording. Even his lyrics, while subtly undercutting the usual fundamentalist message, never spell things out. Lake's intent and religious orientation (or lack there of) comes more clean in "Praise The Lord and Shoot To Kill," a song that manages to rhyme Wounded Knee with sympathy, Islam with bombs. There's also the real tricky, very serious title cut, a song dedicated to the victims of September 11th. "We All Need Heroes" reminds us of the terrible price that heroes often pay, and notes " … all the time and remembrance ahead won't bring you home to your family." Other songs like "It's You" and "They Will Always Love You" fall into more typical singer-songwriter mode and help to balance out the heavier sentiments on We All Need Heroes. It's a big plus that Lake , besides being a clever, tuneful writer, knows how to dress up these songs in a broad variety of arrangements. We All Need Heroes successfully dips into a number of styles to create an album that's easy on the ears but never insults you intelligence.
–Ronald Lankford, Jr.
Bluegrass Music Profiles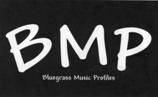 Record Review
Sept-Oct 2005 Issue
TIM LAKE – We All Need Heroes, Padraig Records
BY KEVIN KERFOOT
Bluegrass fans may know banjo performer/singer/songwriter/teacher Tim Lake from his Rounder Records debut over 20 years ago. Since then his banjo-led recordings have transcended musical styles and genres, delving into bluegrass, folk, Americana, blues, jazz, Celtic and classical areas — not to mention his An American Concerto For Five-String Banjo. On We All Need Hereoes, Lake has assembled a collection of original songs that address spiritual issues, the role of the banjo in American popular music and a series of songs inspired by September 11. Backed by his Little Big Band you'll find banjo, guitar, bass, fiddle and mandolin alongside piano, woodwinds, tuba and percussion. Lake also enjoys delving into a variety of subject matter from politics and religion to social values, history, children, love and life. Listening to these 17 tracks – almost 70 minutes of music – conjures up many moods and feelings and Lake's voice and banjo work are comfortable in all of these settings. Standout tracks include the Beatle-esqe Dixieland-band feel of When I Think Of You, which was written for his wife; Who's The Lord Get To Talk To, which is written from the Lord's point of view and displays some of Lake's stellar banjo work; the bluegrass tinged and thought provoking Praise The Lord And Shoot To Kill; Sail For The Lord, which is about loving one another and believing in the Lord; and That's Why I'm Smiling, a heartfelt ballad he wrote about his son.
Highly recommended.
International Musician – September 2005
UPBEAT
The Banjo Finds A New Voice
By Arkady Pritsker
Timothy Lake of local 554-635 (Lexington, KY) is not your typical banjo plucker. He hasn't let the tradition and long heritage of his instrument restrict the range of music he performs. While Lake knows and loves all the wonderful bluegrass and country tunes for which the banjo has long provided characteristic instrumental sound, he has also found a way to rework rock, blues, and even classical pieces for both the four-string and five-string banjos.
Since 1973, Lake has been plucking all over the US, Japan, Ecuador, Norway, and Austria, all the while actively redefining the possibilities of one of the few truly American instruments. Educated at the University of Kentucky in Lexington, Lake recalls how his professors reacted to his insistence on playing the banjo in the exalted setting of higher musical education. "They were reluctant at first, but they eventually gave in and suggested I try using some Vivaldi-type techniques," Lake says. What came out of this experimentation would eventually become Lake's doctoral piece: An American Concerto for Five-string Banjo and Orchestra.
Lake was always working, long before he set out to get his degrees. Growing up in the South–specifically Kentucky-he enjoyed a wealth of inspiration from the legion of folk, bluegrass, and country musicians who performed around him. But he says it wasn't until he joined the Federation that he began to play jazz on a regular basis.
"There are a group of jazz musicians here in Lexington that I never would have played with had it not been for my AFM membership," states Lake. "They opened up the doors for me to go out and play union gigs, which exposed me to even varied and useful musical influences." Lake particularly values what he calls the "green sheet gigs," concerts organized under the Music Performance Trust Fund, because they allowed him to play with fellow union members under union conditions-a precious opportunity, he says, for someone just starting to make money with his music.
After nearly two decades of performance under his belt, Lake recorded and released his first album, Same Old Roadside Inn. Finding himself not 100% happy with the experience, he then took it upon himself to create Padraig Records in 1993, the label on which all of his subsequent albums have been released. Lake's newest work is a novel combination of guitar synthesizers, his banjo, and a host of other components. It's called We All Need Heroes, and unlike his other records, it has a definite political edge, which comes through clearly in Lake's lyrics.
The newly released album is occupying a great deal of Lake's time, with the extra work that has to be put into publicizing and promoting. Yet, he says he still finds time to play local gigs for holiday functions, and he looks forward to teaching private students every week. Most of his students are adults, and Lake genuinely regrets the fact that children don't show greater interest in banjo. "It seems I only get kids in for lessons when a movie with a banjo song in the soundtrack comes out," he laughs. Oh Brother Where Art Thou, for instance, really peaked youngsters' interest. That's a shame, because the banjo has the capacity to be a powerful instrument in the hands of a creative youngster."
Whenever Lake gets a chance, he tours in support of his albums, and he's definitely not averse to going overseas. Lake and his trio, The Little Big Band, have performed in Japan 10 times, making it their most popular international destination. When asked how the Japanese respond to his clearly American brand of musicianship, Lake says that audiences for his Japanese concerts are always intrigued. In fact, Lake and his trio often find themselves performing with local Japanese musicians, particularly those who play traditional, ethnic instruments. "They seem to be most interested in the banjo's sound," he says.
Joe Ross
TIM LAKE – We All Need Heroes, Padraig Records PAD-35445
P. O. Box 22164, Lexington, KY 40522-2164 TEL.
www.TimLake.com
EMAIL TimLakePAD@aol.com
Playing Time – 68:48
It's been about 20 years since Tim Lake first caught our attention with his "Same Old Roadside Inn" release on the Rounder label. He established his own Padraig record label in 1993. "We All Need Heroes," the latest album from Tim Lake, is the eleventh from the singer and songwriter who is originally from New York City but now living in Lexington, Ky. His musical approach fuses bluegrass, gospel, country, rock, pop, and light jazz behind his singing voice on all-original material. With sultry, bluesy and soulful vocalizing, Lake is also somewhat of a political spokesman with songs like "If Only I was a Praying Man," "Praise the Lord and Shoot to Kill," "Two GIs in a Foreign Prison" and the title cut. He also presents some tender love sentiments, gospel, and other messages that are creative and unique ("Ain't Nobody Normal Anymore"). A typical arrangement has Lake's banjo and vocals layered with piano, pedal steel, percussion and other instruments.
Calling his music "jazz with bluegrass and blues," Lake earned a doctorate in music in 1991 from the University of Kentucky. His dissertation (and one of his albums) is titled "An American Concerto for the 5-string Banjo and Orchestra." That piece was documented from a 1993 performance with the Atlanta-Emory Symphony Orchestra. It also won the Kentucky Al Smith Fellowship for Music Composition in 1995. On "We All Need Heroes," Lake addresses the spiritual issues that we all confront daily during turbulent times. Four of his songs were inspired by the 9/11 tragedy. He also successfully explores the role of the banjo in American popular music, with the 4-string plectrum banjo played in "It's You," while the 5-string is more frequently used. Lake also plays guitar and ukelele, while the rest of his Little Big Band play woodwinds, sax, percussion, trumpet, keys, tuba, steel guitar, fiddle, mandolin, and guitars. Besides his own background vocals, others are provided by Danielle Thompson and Nathan Wilson.
Some of Lake's 17 originals work better than others, and "They Will Always Love You" is a personal favorite due to its contemporary bluegrass feeling. Some of his other songs grow on you with continued listens. With nearly 70 minutes of music on this album, you're bound to find some melodies and lyrics to personally relate to. His family has also been both supportive and inspirational. "When I Think of You" was written for his wife, Miyuki, on Valentine's Day 1997. "That's Why I'm Smiling" is a jazzy ballad written for his son, Sheehan. Dave Anderson's saxophone and John Heinrich's steel guitar give the song an enchanting atmospheric effect. "Sail for the Lord," with its funky riff, presents optimism for tomorrow if one has faith in the Lord. Lake's music is a type of Americana, and if his own "Outside Looking In" has any autobiographical truth to it, then we are pleased to know that Tim Lake is doing just fine despite detractors, taxes, and others who may not understand his own unique approach to musical expression. (Joe Ross)
Ronald Lankford, Jr.
We All Need Heroes
Tim Lake is a folksinger with a song to sing, a man on a mission on We All Need Heroes. He kicks off with the buoyant, jaunty "Are You Ready?," a song that adds a bit of a spin to the Second Coming. He turns his refrain, "Are you ready?," into an honest to God question, suggesting that many true believers might not be as ready as they think they are. Lake is an eclectic folksinger, never getting too bogged down in questions of authenticity. On the opening cut, he borrows from rollicking gospel, while the follow-up, "It's You," sounds like a lazy bit of blues or jazz from the 1920s, complete with clarinet. His material is likewise eclectic. He can be a broad social critic and satirist, as on the first cut, a straight singer/songwriter on "It's You," and a storyteller on the title cut. Lake also has a knack for adding politics to the mix without being overly obvious. On the title cut, for instance, he notes that while everyone needs heroes, there's a price to pay: heroes, with families and friends like everyone else, don't always come home. In other instances like "Praise the Lord and Shoot to Kill," he covers his liberalism with a generous dose of humor, making the pill — for those who disagree — easier to swallow. We All Need Heroes is a well-wrought collection by a thoughtful performer, and will be warmly welcomed by good liberals and folk fans tired of the same old same old. ~ Ronnie D. Lankford, Jr., All Music Guide
–Kerry Dexter
Dirty Linen Magazine
#118 June/July '05
Tim Lake We All Need Heroes
[Padraig PAD 35445 CD (2005)] Singer/songwriter/banjo player Tim Lake's latest project is centered on two themes. Lyrically, the cornerstones are four songs he wrote in response to the events of 9/11. Sonically, he explores a varied palette of banjo styles from plectrum to swing to bluegrass to support these and other songs in the collection. These other songs, all originals, are a bit like the broadside ballads of an earlier time, themed around contemporary politics and spiritual questions and grounded in the images of daily life. Other writers have addressed the effects of 9/11 in perhaps more poetic ways. That said, Lake's work is straightforward, heartfelt, and consistent. He can really play the banjo, too.
(KD) Kerry Dexter (Tallahassee, FL)
The Inland Northwest Bluegrass Association
May – June 2005
Volume 11, Issue 3
The Bluegrass Blabber
Reviews 'n' Stuff by Mitch Finley
Tim Lake , We All Need Heroes
(Padraig Records, P. O. Box 22164 , Lexington , KY 40522-2164 ; www.TimLake.com; TimLakePAD@aol.com )
Virtuoso 5-string banjoist Lake 's latest is a remarkable collection of 17 instrumentals and songs. Lake describes it best himself: "First, I wanted to create a collection of original songs that would address the spiritual issues that we all confront daily during these turbulent times…The second objective … is to explore the role of the banjo in American popular music."
This CD is nigh onto indescribable, except to say that it's impossible not to enjoy it and want to leave it in the ol' CD player for days on end. A wonder!
LOUISVILLE MUSIC NEWS
Tuesday, May 2, 2005
Doing the Banjo Proud
We All Need Heroes (Padraig Records)
Tim Lake
By Kory Wilcoxson

I've always thought of the banjo as a one-dimensional instrument. Sure, you pull it out when Grandma wants to clog to some bluegrass, but you wouldn't think of twanging the banjo strings for a ballad or a blues song (what's blue about the sound of a banjo?).
But Lexington-born Tim Lake has spent a career redefining the banjo's musical territory, putting out recordings that feature the banjo in some unlikely scenarios (like his doctoral dissertation, "American Concerto for 5-String Banjo and Orchestra").
On We All Need Heroes, Lake continues his imaginative songwriting. The album features a diverse collection of tunes ranging from the bluesy "Outside Looking In" to the sweet "When I Think of You." The centerpiece of the disc is a four-song suite inspired by the events of September 11 (anchored by the sardonic "Praise the Lord and Shoot to Kill").
Lake dispenses all kinds of front-porch wisdom and is equally adept at humor and earnestness, but the obvious draw of his music is his incredible banjo playing. "Heroes" features a number of solos that give the listener a wonderful taste of the banjo's versatility.
Find out more at www.timlake.com.
Tim Lake & The Little Big Band
Foust Concert Series
Georgetown College, Georgetown, Kentucky
John L. Hill Chapel (venue)
September 25, 2003 Thursday
8:00 PM
Tim Lake – banjo, guitar & vocal
Ken Holbrook – guitar, mandolin, fiddle & vocal
Nathan Wilson – double bass & vocal
with special guests Jay Flippin – piano and Dave Anderson – woodwinds
This group of great musicians are presently in the studio recording new Tim Lake original songs that will be released in early 2005. Please look for Padraig Record's new Tim Lake release entitled "We All Need Heroes"
The Georgetonian
Vol. CXVIII, No. 17 Wednesday, October 1, 2003 Georgetown College
Arts & Entertainment
Foust Concert Series brings Dr. Tim Lake to chapel
By Patrick Purcell
Dr. Tim Lake brought his Bluegrass music talents to Hill Chapel last Thursday evening in a concert that was part of the Foust Concert Series. Lake is a renowned Bluegrass musician having performed across the United States and overseas with his group, "The Little Big Band." He has shared the stage at one time or another in his career with such legends as Earl Scruggs and Bill Monroe. During his distinguished career as a musician, Lake has released nine albums of original material and found time to receive a doctorate in music from the University of Kentucky. Accompanying Lake, who played the banjo for the entirety of the concert, was Ken Holbrook, whom Lake claims is the "best (multi) instrumentalist in the area" and who played the mandolin, guitar, and fiddle; and Nathan Wilson, played the double bass. These three gentlemen got the crowd going with some classic Bluegrass songs and with some familiar songs on which Lake had put a Bluegrass spin. The crowd really got into the Bluegrass versions of "My Old Kentucky Home" and the University of Kentucky's fight song. In perhaps the most interesting two performances of the evening, Lake, Holbrook and Wilson combined Handel's Messiah with Dueling Banjos in one song and infused Vivaldi and Bluegrass with one another. For the second half of the show, two more musicians joined the three already on stage: Jay Flippin, who played the piano; and Dave Anderson, playing various woodwinds. About this part of the show, senior Victoria Seyler said, "I enjoyed the whole program, but the additions of the piano and woodwind instruments in the second half of the program added a whole new dimension to their sound. I was very impressed with the improv solos by the pianist and woodwind player. This performance of Bluegrass music was not just a great concert; it was a look at this great state's roots. Needless to say, all in attendance had a great time with the lively Bluegrass music, and it would be great to see Lake back next year.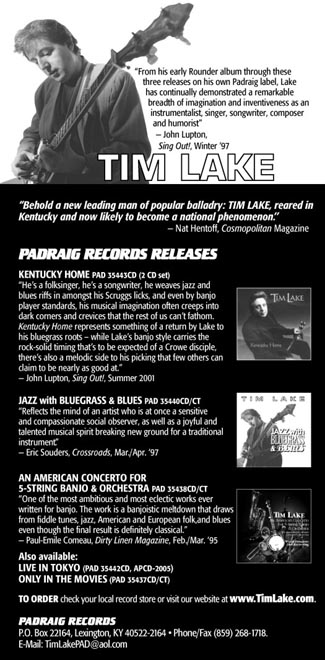 DIRTY LINEN – October/November 2001
Tim Lake, Kentucky Home
Padraig Records, PAD 35443CD
"Tim Lake is probably best known for his inventive use of the banjo. He's played jazz, classical, and blues and extended the range of the instrument far beyond what others have done. What might have been overlooked is how well he plays straight old-time banjo, but this new two-CD set should help set the record straight. All the classics are here…played with Lake's trademark skill and imagination. Lake has come up with yet another enjoyable album that, even at over 135 minutes of music, never wears out its welcome."
– Jim Lee
BLUEGRASS NOW – October 2001
Tim Lake, Kentucky Home
Padraig Records, PAD 35443CD
"Tim Lake is one heck of a banjo player as is evidenced on his latest two-CD effort, which contains 33 tunes performed live with his trio. While many of the tunes may be traditional, Lake can hardly contain himself to one style of playing and is prone to a lightning quick chromatic flourish with tinges of blues and jazz at any given moment. His playing sounds fresh with interesting ideas. There is a lot of good music on Kentucky Home. Fans of 5-string banjo – traditional and otherwise – should definitely consider adding this one to their collection."
-Eddie Collins
SING-OUT! – Summer 2001
Tim Lake, Kentucky Home
Padraig Records, PAD 35443CD
"He's a folksinger, he's a songwriter, he weaves jazz and blues riffs in amongst his Scruggs licks, and even by banjo player standards, his musical imagination often creeps into dark corners and crevices that the rest of us can't fathom. Kentucky Home represents something of a return by Lake to his bluegrass roots – while Lake's banjo style carries the rock-solid timing that's to be expected of a Crowe disciple, there's also a melodic side to his picking that few others can claim to be nearly as good at."
– John Lupton
BLUEGRASS UNLIMITED – June 2001
Tim Lake, Kentucky Home, Padraig Records , PAD 35443CD
"Given the combination of Lake's instrumental virtuosity, his broad stylistic range, and the informal live setting, this album has some great moments – his renditions of "Blackberry Blossom" and "Gold Rush" are especially fun. (Padraig Records, P.O. Box 22164 Lexington, KY 40522, Web: www.timlake.com"
– Rick Anderson
DIRTY LINEN – October/November 2000
Tim Lake & the 5-String Banjo Live in Tokyo, Japan [Padraig PAD35442CD/APCD-2005(1998)
"Banjo picker, songwriter and vocalist Tim Lake traveled to Japan to record this live CD that features him in a solo setting without his usual backing musicians. Lake's banjo playing puts him in a class by himself. He can play straight-up traditional, give the tradition his own twist (as on "My Old Kentucky Home"), or take the banjo to places it hasn't been before (as on his version of a Duke Ellington jazz piece combined with "El Condor Pasa," or his classical-meet-Earl Scruggs on "Vivaldi's Breakdown"). He's also a fine songwriter with an appealing voice. Most interesting are the last three tracks, one an interpretation of a Japanese koto piece, and two others that feature duets with the shakuhachi (Japanese flute) and the shamisen, a banjo-like instrument."
– Jim Lee
SING-OUT! – Fall 1999-2008
Tim Lake and The Five String Banjo, Live In Tokyo, Japan , Padraig 35442
"Tim writes in the liner notes to Live in Tokyo, Japan that his plan was to showcase the five-string banjo by performing a variety of styles of music including solo pieces and as accompaniment to his vocal. Tim, who wrote his doctoral composition for banjo and string orchestra, has taken his banjo around the world performing in such non-bluegrass arenas as Ecuador, Norway and Austria. The recording was made before a live studio audience at Audio Park in Tokyo.
"Live in Tokyo, Japan includes a number of banjo standards including "Cripple Creek," "My Old Kentucky Home," and a clawhammer version of "Pretty Polly." If that was the extent of the variety on the recording it would be yet another fine traditional banjo recording albeit a solo format. But beyond the fringe of tradition are selections from Ellington, Vivaldi, Handel and the Andes with the traditional classic "El Condor Pasa." Most interesting, however, are the final three selections which place the banjo in a duo and trio setting with two master Japanese musicians, Shofu Yoneya on Shakuhachi flute and Jo Fujii on the Shamisen. I am reminded of the playing Tony Ellis and the experiments of Dan Levenson as they both used the music of the East to fuel their creative banjo outpourings.
"The duo and trio selections work very well and again we find our definition of the banjo changed forever. Fujii plays his Samisen very much like a hybrid one string and a gut strung fretless banjo. The final selection, "Tsugaru Duet," pits these two instruments against one another. The audience loves it as the players try to recreate each the music of the other. This selection is worth the purchase of the recording.
"No other acoustic instrument has been so adapted in the past two decades. Tim Lake has been there along with Bela Fleck, Bill Keith, Tony Furtado and others redefining the way we listen to and the music we play on the banjo."
– Tom Drunkenmiller
LOUISVILLE MUSIC NEWS — July 1999-2008
"What do Vivaldi, Ellington, Scruggs, Mercer, Handel, Monroe, Parker, and Taki have in common? They provide inspiration for one of the most unusual and perhaps, unique recordings I ever heard. Tim Lake seems determined to convince the world that there are no boundaries for his beloved banjo. The lyrics to I Can Play The Banjo and Only Eat When You're Hungry confirm his desire to make the world a better place using his music and banjo. If you like banjo music, this CD should be in your collection as it is probably unlike anything you have ever heard, (Bela Fleck not excluded.)"
— Bob Mitchell
MUSIC HOUND – FOLK, THE ESSENTIAL ALBUM GUIDE — 1998
"Lake continues to challenge the preconceived notions and expectations people fall back on that limit their openness to new and different sounds. In Lake's musical world, there are no limits and no boundaries."
— John Lupton
SING OUT! — Winter 1997
"From his early Rounder album (Same Old Roadside Inn, 1980) through these three releases on his own Padraig label, Lake has continually demonstrated a remarkable breadth of imagination and inventiveness as an instrumentalist, singer, songwriter, composer and humorist.
"While not intended to serve as a unified trilogy, these three recordings do, in many ways, serve as a comprehensive guide to his multi-faceted approach to playing the banjo, be it bluegrass, jazz, classical.
"Lake isn't content to open just one door — he wants to wander through the whole damn house and hear what that Gibson Mastertone sounds like in each and every room.
"…if you like bold, adventurous music, and the sound of a banjo doesn't make you break out in a cold sweat, any of these three albums is likely to be a rewarding experience."
— John Lupton
CROSSROADS — Mar/Apr 1997
"Tim Lake is an accomplished banjo player with multiple music degrees from the heart of the bluegrass state (U of K, Lexington, Kentucky), Asian performances and An American Concerto for 5-String Banjo and Orchestra to his credit. The unique feature of this latest album is that Lake has taken his considerable Scruggs-style banjo skill and applied it to a variety of musical styles that are not typically part of the banjo's repertoire. Curiously, for an artist whose career has primarily focused on instrumental work, Lake's songs showcase a voice not unlike that of Lyle Lovett or Lou Reed. Lake's primary mission with this album, however — his seventh to date — was to "examine the relationship between the banjo and words" without getting caught in the incessantly "lighthearted" effect the banjo sound can have on serious songs. As a result, Lake chooses to explore challenging social issues, American history, racial oppression and aging in an accessible style. But Lake also reveals a humorous side in "conservative clothes" and "A Big Fat Blowhard Like You." The album reflects the mind of an artist who is at once a sensitive and compassionate social observer, as well as a joyful and talented musical spirit breaking new ground for a traditional instrument."
— Eric Souders
BANJO NEWSLETTER — April 1997
"As the 5-string banjo prepares to enter the 21st century, the musical possibilities at its doorstep seem broader and more varied than ever. More and more people are taking what Earl Scruggs started and moving into new frontiers. One such musician is Lexington, Kentucky's Tim Lake. He has combined his experience in bluegrass music with classical, jazz, blues, ragtime and folk to create a style that he can certainly call his own. 'Jazz with Bluegrass and Blues' (Padraig Records) is a collection of Lake originals that, in his own words, 'Finally reconcile a conflict concerning myself as a songwriter and a banjo player.'While the title might bring images of ragtime instrumentals, a la Bill Knopf, the CD actually contains vocal tunes that deal with socially relevant topics usually covered by adult contemporary artists such as Bruce Springsteen. Tim also shows a strong Springsteen influence in his throaty vocal delivery, which is often filled with emotion. The banjo is used much more sparingly than in typical bluegrass settings, but when he steps out, Tim Lake shows that he has both technique and fresh ideas. Everybody Walks with Jesus opens with a driving Scruggs-style break and is sprinkled with tasteful back-up licks throughout. Sheehan's Smile is a bouncy instrumental filled with triplets, and the album closes with a version of Dueling Banjos that sounds like Weissberg meets Handel! The title track of another recent Tim Lake release, 'An American Concerto for 5-String Banjo and Orchestra' is a 27-minute piece that combines the banjo with a full symphony orchestra. The work was part of Lake's doctorate, which he received from the University of Kentucky in 1991. Tim describes his composition as 'a semi-programmatic work which depicts an immigrant's voyage to America.' His goal with this music is to create a comfortable place for the banjo in classical music, much in the way that Bela Fleck has found a home for the banjo in jazz. The CD also includes the Beethoven composition Fur Elise performed on the banjo. The rest of the album consists of piano pieces written by Lake and performed by Carey Glover, as well as a duet for bassoon and oboe, performed by Peter Simpson and Bruce Morrison. For anyone interested in the expanding possibilities of the 5-string, Tim Lake's recordings give us a glimpse into the mind of one of today's leading progressive proponents.
— Ian Perry
ACCOUSTIC MUSICIAN — September 1997
TIM LAKE AN AMERICAN CONCERTO FOR 5-STRING BANJO & ORCHESTRA Padraig Records PAD 35438CD
"So you're bumming because you don't feel musically challenged. There's no new ground-breaking eccentricity in the banjo-world beyond Bela and the boys and you're thinking about picking up curling (Norwegian sport). Welp, here's a recording that may put your banjo pathos to the test.
"Meet Tim Lake; composer, performer and obvious banjo-enthusiast of the highest order. This recording was made on April 27, 1993, for the world premiere of Dr. Lake's composition. Needless to say, this is not Fox on the Run! New to me, is the use of the banjo as a harmonious and lilting, symphonic instrument. Now we're all familiar with the many banjo-oriented jokes that are kicked about the campfire but, Tim Lake paints images with his melody and rhythm; all with the use of the banjo. Not to mention the fine orchestration of the Atlanta-Emory Orchestra conducted by Jere Flint!
"You'll also find an interesting rendition of Fur Elise (Beethoven) contained on the CD along with some other provocative banjo and piano pieces, all of which are Tim Lake compositions. So if you need something to truly challenge your listening ear, this CD will definitely fulfill the prospect. The question remains . . . are you up to the challenge?"
— Don Dawson
DIRTY LINEN — Feb/Mar 1995
Tim Lake — An American Concerto for 5-String Banjo & Orchestra/Tim Lake — Only in the Movies.
"Tim Lake's An American Concerto is his sixth release and the world premiere of the work. Lake wrote as part of his doctoral dissertation. The American Concerto composition is a 27 minute semi-programmatic work in three movements which depicts an immigrant's voyage to America. It was recorded live with the Atlanta-Emory Orchestra and is one of the most ambitious and most eclectic works ever written for banjo. The work is a banjoistic meltdown that draws from the fiddle tunes, jazz, American and European folk, and blues even though the final result is definitely classical. The recording also includes his interpretation of Beethoven's Fur Elise, a bassoon/oboe duet written by Lake, and some of Lake's minimal pieces played by pianist Carey Glover.
"The classics are only a part of his repertoire. Tim Lake could take his place among the great banjoists of any style. On Only in the Movies, Lake interprets a couple of Bach tunes along with a couple of jazz melodies, including Ray Noble's Cherokee, a slide banjo blues tune, and a couple of medleys of standards. He closes the album with Have Yourself a Merry Little Christmas/The Lord's Prayer. Lake also sings half a dozen mostly original songs."
— Paul E. Comeau
Other Projects
In 1996, Dr. Lake finished his first symphony, "A Symphony Of Kentucky" with Movement III containing an optional 5-string banjo part. Write, email or call us for score/performance information for this new work.
Recent Articles
Check out Dr. Lake's Music Theory series which appeared in Acoustic Musician Magazine!
Article 1 – Learning Music to Make Music
Article 2 – Understanding Music – A Path to Follow
Article 3 – An Approach to the Study of Music
Article 4 – This Art We Call Music – Approaching the Classics