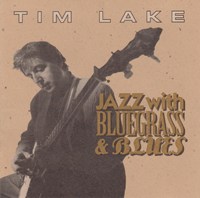 Jazz with Bluegrass & Blues
Release Date: 1995
Recorded with his trio, The Little Big Band, these performances successfully blend the singer-songwriter and banjo player attributes of his music. Hailed as one of "the great banjoists of any style" (Dirty Linen — Feb/Mar 1995) and an "especially good lyricist conveying social justice and ecological concerns" (Louisville Music News — April 1996), this recording will appeal both to listeners interested in instrumental virtuosity and fine songwriting. This is his only recording that features standard bluegrass band instrumentation throughout (banjo, guitar, mandolin, fiddle, and bass). Each song flows smoothly to the next while retaining a wide range of stylistic influences and a unique and eclectic banjo style. Thirteen of his best songs to date are featured.
---
1.
Jazz with Bluegrass & Blues
3:08
---
2.
Everybody Walks With Jesus
2:58
---
3.
I Come From Kentucky
2:25
---
---
5.
A Loser's Attitude
3:35
---
---
7.
Big Old Ambur Oak
3:36
---
8.
If It Weren't For Growing Up
3:08
---
9.
Conservative Clothes
3:40
---
---
11.
A Big Fat Blowhard Like You
4:40
---
---
---
14.
Handel's Dueling Banjos Con Alleluia Y Sarabande
4:37
---